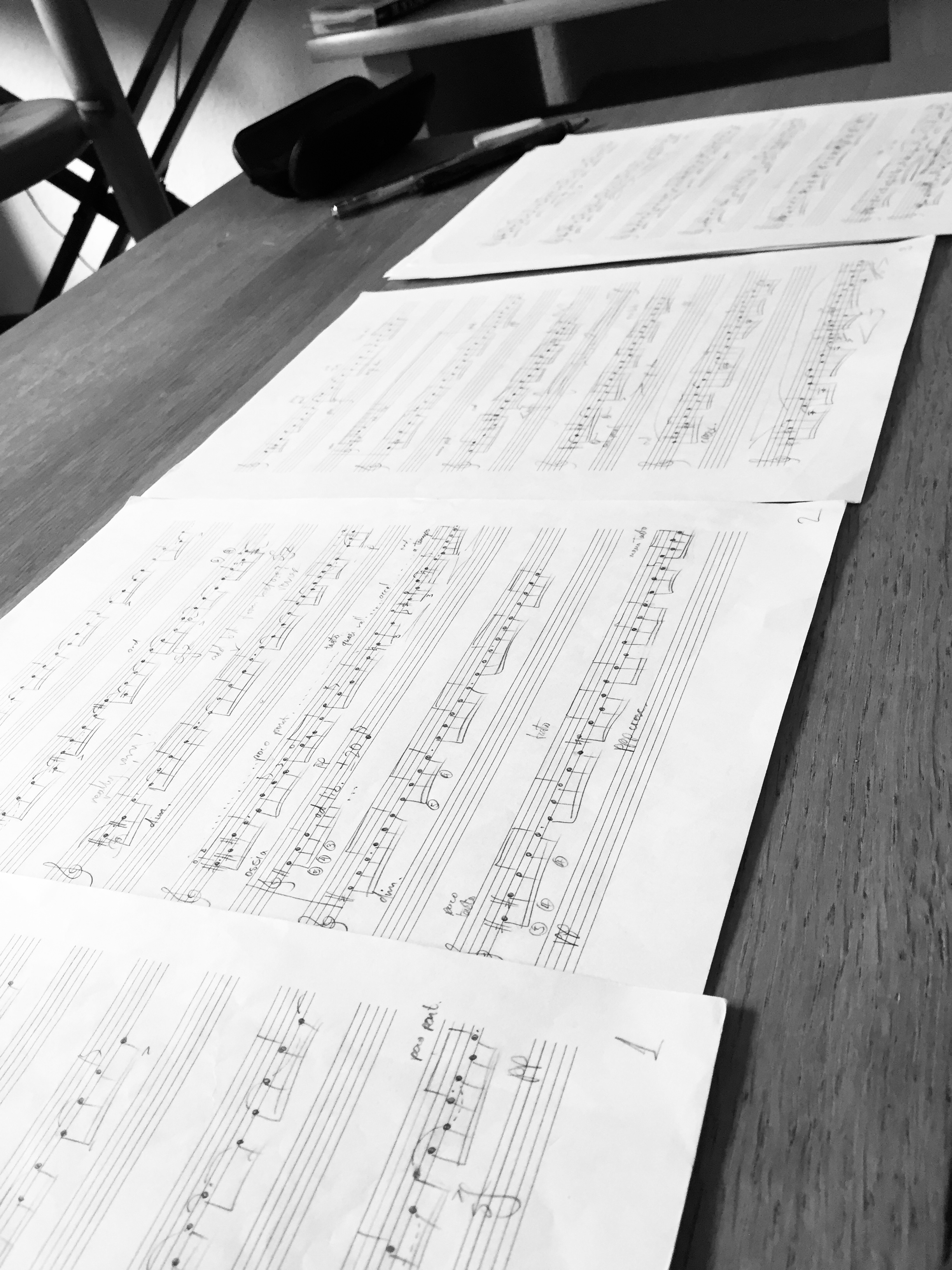 Right now what I'm writing as I'm writing this blog is a solo guitar piece.
A longer piece
I'm basically writing it because I wanted to compose a longer piece for the guitar than the ones I've often seen. I used to feel that there were too many short pieces of not much more than a page or two, or pieces like suites with several shortish movements. While the guitar's repertoire has expanded greatly and become enriched with all manner of styles in the last decades, my desire for longer pieces still remains.
Ideas
I think I mentioned in a previous post that I thought it was time write some serious guitar music. This is more or less the beginning of that.
The most important thing here then is to write something – this means that rather than taking months to go deep into my artistic psyche and soul, contemplating how to explore the timbral qualities of the instrument and brooding upon what this piece might say about me as a composer in this world in 2018, I'm going bash out something that has more of an improvised quality and is fun to play. We'll see. Sometimes preventing rumination on single notes is impossible.
I also want to write pieces I can play, which helps to add a dimension of technical realism to it, i.e. not write things that are too difficult, and thus increase the chance of other guitarists being able to enjoy it as well.

Several movements
I found myself thinking "multi-movemently", with the urge to compose a piece with about four or five separate parts that were different in character. I'm not about to write another suite though, I hope, and I reckon there are enough already – at least four that were good enough not to mess with. A sonata might be closer to how I was thinking, but I wasn't about to start meddling with sonata form – there's probably been enough of that too. The important thing is just to compose with the sort of musical character and materials I had in mind.
Four or five
The structure of all the movements in terms of their character will basically be:
Fast and rhythmic, brutal
Quite fast and rhythmic, smoother
Slow and intense
Humorous, somewhat erratic; moderate tempo.
Faster and rhythmic, brutal
Character
You might have got a sense that the element of "force" figures here, you might have noticed that the word "brutal" appears twice. Probably something to do with the fact that I like music like that, but also with the intention of going beyond the intimate, delicate, nice and gentle character that the classical guitar tends to have. Not that I want to stop the guitar being like this, it's just I want more badassness in the repertoire.
Next time
In the next post I'll tell you about some specifics of how I'm composing the second movement, which is where I'm starting, with some of the sheet music too.