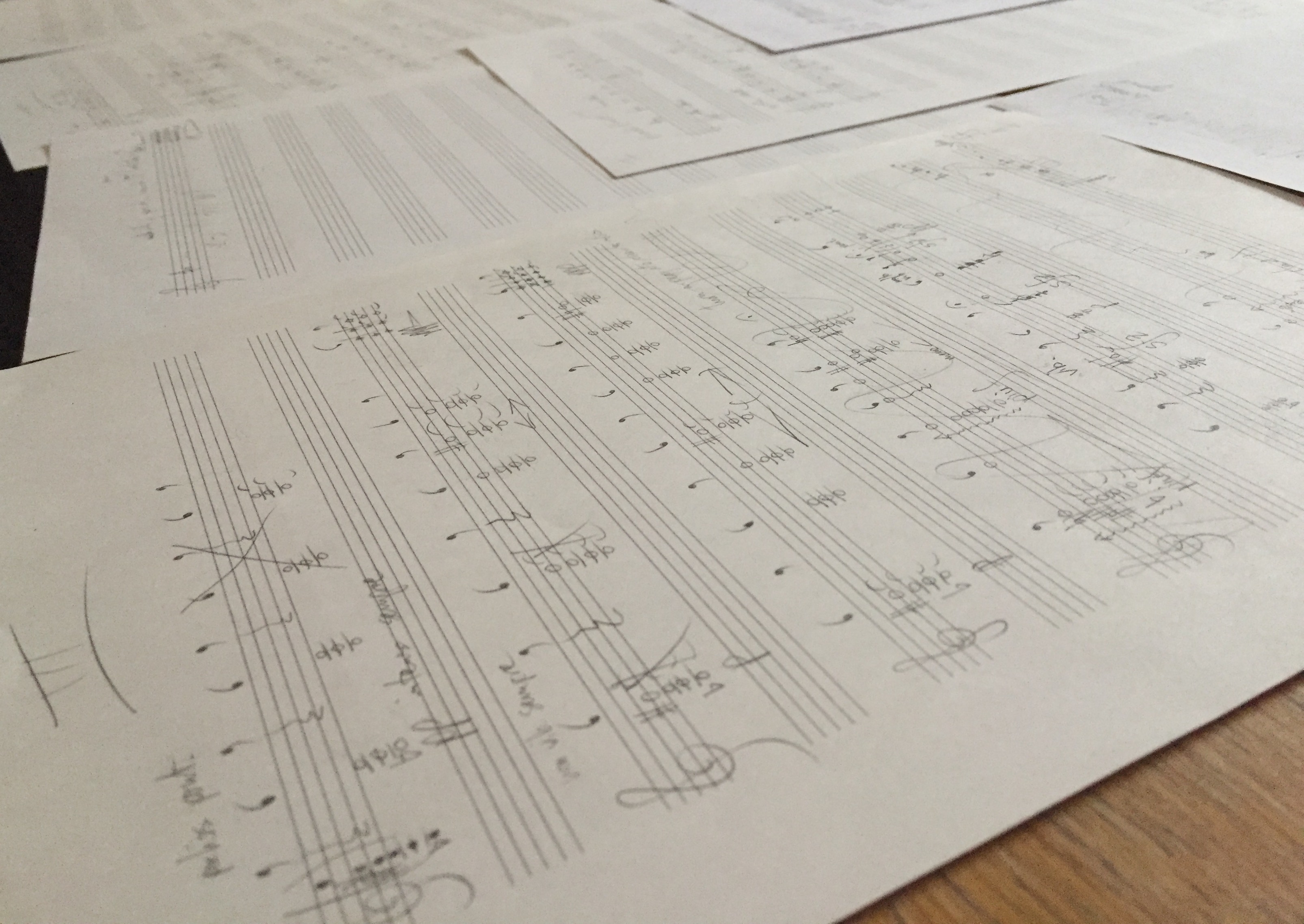 In between working on learning to play the second movement, the next movement I'm writing in this five-movement piece is the third, which is very slow, and very serious.
The seriousness is almost a hindrance in composing, since it means that each note will have much greater significance, and so I'm experiencing a tendency to avoid writing at all in order to avoid writing a wrong note. Extreme seriousness comes close to the fine border it shares with ridiculousness – an over-dramatic performance with an apparent lack of genuine sentiments shared with the audience can sometimes be the object of sniggering.
Potential joking aside, my hesitance in writing notes doesn't mean that composing isn't happening – it's more part of a phase of how the ideas, the global structure, the materials and their relationships are clarifying themselves. I usually find that at a certain point I get a sense of definiteness about when something is right, and as soon as that comes, I write. This happens at every level, from the general idea, macrostructure, choice of instrumentation etc. to the microstructure and choice of notes.
In this case I've written a beginning (some of which you can see in the picture above), not necessarily "the" beginning, and I have an idea about how I want it to develop. Soon enough more details will come and eventually I'll be satisfied enough to call it finished. Luckily enough I don't have any fixed time limitation like deadlines, other than not wanting to wait too long for the finished piece, so I can take advantage of as much patience as is necessary.
Depending on the nature of the piece and how clear things are, sometimes I'll write loads, and sometimes I might not have any ideas or hardly progress at all. As one of my teachers Juan de Dios García Aguilera quite rightly often used to say though, the time you spend thinking about your piece is counts as working on it, not just the writing.
I heard a podcast with the composer Dale Trumbore in which she highlights the importance of "just showing up" to compose every day. I liked this because there's not really a lot you can do to make ideas come other than making the time and space for them. Of course, studying, listening, reading, travelling, experiencing life or whatever is always good, but showing up for the daily meeting with the manuscript paper gives the music the chance for steady growth.
I find sometimes just looking at the piece with a certain investigative curiosity can clarify and develop things. Sometimes questions help, like:
What is the main idea?
What are the materials?
What is the structure?
What do I like or dislike about this or that?
Often, however, I like to just look at or listen to the piece and allow the mind to react to it. It may find aspects it's happy with to build upon. If it finds parts it's not satisfied with, the dissatisfaction implicitly contains the nature of the problem, thus clarifying the solution.